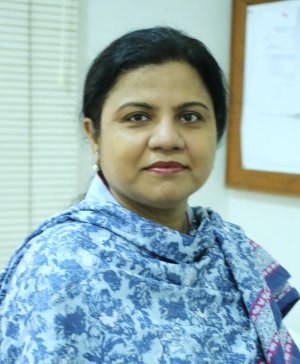 Detail:

She is a permanent faculty member of the Institute.

She joined the Institute in 1990 as Research Associate in BS-17.

In July 1995 she promoted in BS-18 as Senior Instructor and subsequently in 2013, she got another promotion in BS-19 as a ADS.

She is working as Additional Directing Staff since 2007. She is involved in training activities as ADS in Mid-Career Management Courses and Senior Management Courses.

She did her Master's in Commerce from Karachi University.

She also has two years' teaching experience of a Degree College.

She attended many short training courses in deferent aspects of Management within and outside the country.

One of the significant course / workshop she attended was a workshop on Global Knowledge and five weeks course on Training of Trainers from INTAN, Malaysia.