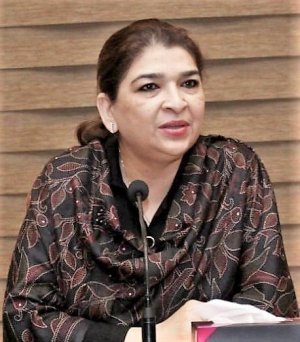 Name:Dr. Lubna Ayub
Qualification:PhD, Sociology, Fulbright Doctoral Scholarship, USA - MSc in Development Studies, London University, Washington DC, Hubert Humphrey Fellowship
Email:dg@nim-khi.edu.pk
Mobile:
Detail:

Dr. Lubna Ayub, is presently working as Director General, National Institute of Management, Karachi, and is a BS 21 Officer of the IRS group.

Previously, she has worked as Member FBR on Special Initiatives, and Chief Commissioner Inland Revenue, Regional Tax Office, Hyderabad and Quetta.

She attained a PhD, Sociology, on a Fulbright Doctoral Scholarship, USA; MSc in Development Studies from the London School of Economics, UK, on a Chevening Scholarship, and a specialization in Public Finance from the American University, Washington DC, on a Hubert Humphrey Fellowship.

She was a member of the Group Study Exchange Programme of Rotary International to Tennessee, USA as an ambassador of Pakistan. .

She is an adjunct faculty at the IBA, SZABIST, and Dow Universities, and has taught courses on Development Economics; Research Methods, and Leadership and Change Management.

She is the President of the Alumni Association Hubert Humphrey Fellows, Pakistan; a Rotarian, and is associated with several non profit and academic organisations.